Olga Tzimou (b. 1973 in Athens, Greece)
She graduated from Lykourgou Stavrakou film school and began her career as a photojournalist for greek newspapers and magazines. For over 20 years she has been working with photographic films and video narrations.
Using the visual language of cinema as an aesthetic path, concerning the plastics of the image, she creates portraits and still lifes, depicting conceptually, states of emotions.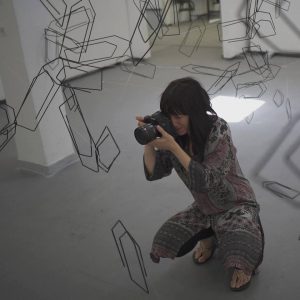 SOLO EXHIBITIONS
2018
-Athens Photo Festival 18
Gallery7/Athens/Greece
SELECTED GROUP EXHIBITIONS
2020
-2nd International Forum of Performance Arts/Drama/Greece
2019
-Group exhibition «Eyes of Light»/Technopolis/Athens/Greece
-Group exhibition/Gallery 7/Athens/Greece
2018
-Group exhibition/Benaki Museum/Greece
2016
-Hellas Film Box Festival/Babylon Cinema/Berlin
-LAGFF Los Angeles Greek Film Festival/Egyptian Theatre/Los Angeles
-FreeNetWorld International Festival/Serbia
2015
-«Tora» Videoart created for Alex Drakos Ktistakis performance/Gazarte/Athens
2014
-Athens International Culinary Film Festival AICFF /
2012
-Group exhibition «X-change» project/curated by Geortzina Theou/Greece
-Group exhibition Centro Bilbao Arte/VIDEOBARDO/ España
-Group exhibition «Descending Utopia» ABOUT/curated by Giorgos Tserionis/Greece
-Group exhibition «LETRA chica» Centro de Exposiciones de Arte Contemporaneo La Casona de los Olivera/VIDEOBARDO/Argentina
2011
-«SEE(K) THE LIGHT»- Kinitiras/Greece
2010
-«Speedfate»/Ivi Theater/Greece
-New Media fest/Cologne
-2nd Festival Internacional de Literatura VIDEOBARDO/PROA/Argentina
-Drama Film Festival/Greece
-Athens Video Dance Project/ Booze Cooperativa/Greece
-The international festival of film and culture – Patras/Greece
-«Love yourself» campaign against eating disorders/Greece
-International Dance Day/Fetihe Mosque/Nafpaktos/Greece
2008
-Athens art net, BIOS/ Greece
-Videoart/»Kei Fyssa» Dance Company/The Athens dance festival/Greece
2007
-Parallel event of the 1st Athens Biennial «Where is the art»/Greece